Bitcoin (BTC), the largest cryptocurrency in the market, has demonstrated a strong shift in investor sentiment. Over the past 24 hours, BTC has surged by an impressive 9%, currently trading at $29,300.
However, Bitcoin still faces significant hurdles, with a resistance line placed at $29,500, as well as a key psychological level at $30,000 that has not been reached since April 19th.
BTC's Moment Of Truth
Material Indicators, a cryptocurrency data analysis firm, has identified a substantial resistance level for BTC at $30,000. This resistance level has been building and may impede the cryptocurrency's upward momentum, potentially causing it to become range-bound, as has occurred several times this year.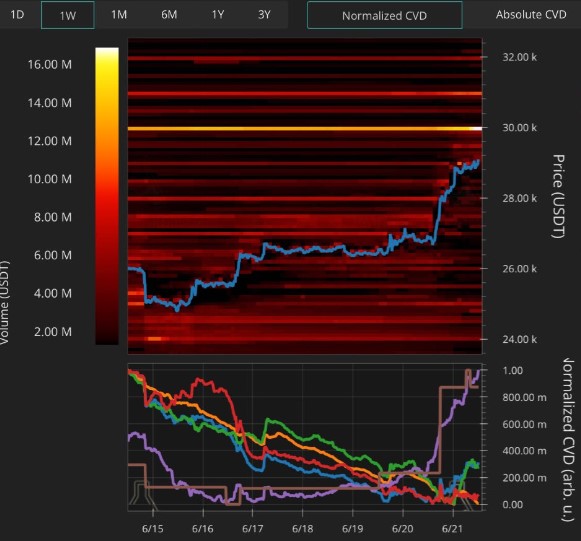 If BTC fails to break through this resistance level, it could become trapped in a narrow trading range, limiting its potential for further growth. However, if it manages to overcome this hurdle, it could provide a strong bullish signal for investors and potentially lead to further price increases.
One key factor that Material Indicators is watching is bid liquidity in the active trading range. Bid liquidity refers to the amount of buying power in the market and is a crucial indicator of investor sentiment and confidence in a particular asset. The company is closely monitoring how much bid liquidity moves into the active trading range to serve as support for BTC.
In addition, Material Indicators is anticipating the testimony of Federal Reserve Chair Jerome Powell, which could impact the cryptocurrency markets. While the company does not expect any major surprises from Powell's testimony, they recognize that these events can often lead to increased volatility and uncertainty in the markets.
However, Bitcoin needs to maintain its bullish momentum and overcome the nearest resistance level of $29,500 to have a chance at breaching the crucial $30,000 line.
On the other hand, if this attempt fails, it will be crucial for BTC to consolidate above $29,000 and prevent any further downside movements.
Bitcoin Set For Major Rally?
Ted Talks Macro, a well-known cryptocurrency trader and host of a popular podcast has recently updated his macro view for BTC, highlighting several bullish factors that could drive the cryptocurrency's price higher in the coming months.
According to Ted, the market has now accepted above February's highs and is forming a higher low on the weekly timeframe. This is a bullish signal that suggests BTC is on track for further gains.
In March, Ted noted that the high-timeframe bull idea would be invalidated if BTC dropped back into the range below $24,500. However, this did not happen, and the bulls showed up to support the price of BTC.
In addition to these technical factors, Ted identified several narratives that could drive sentiment over the coming quarters. These include the upcoming BTC halving, the launch of the Blackrock spot ETF (and other similar products), the Federal Reserve's pause on interest rate hikes, and the launch of crypto exchanges by traditional finance giants.
Based on these factors, Ted Talks Macro has set a target of $35,000 for BTC, which is now in play. This target represents a significant increase from BTC's current price and suggests that the cryptocurrency market could be poised for a major rally in the months ahead.
Featured image from iStock, chart from TradingView.com