On-chain data shows a large amount of Ethereum has left exchange wallets within the past two days, a sign that could be bullish for the price.
Ethereum Supply On Exchanges Has Plunged In The Last 48 Hours
As an analyst on Twitter pointed out, about 310,000 ETH has exited exchanges in the past 48 hours. The relevant indicator is the "ETH supply on exchanges" metric from the on-chain analytics firm Santiment. As its name already hints, it measures the current total amount of the Ethereum supply stored in the wallets of all centralized exchanges.
When the value of this metric goes up, it means ETH is being transferred into the wallets of these platforms right now. As one of the main reasons investors may deposit to exchanges is for selling-related purposes, such a trend may cause a bearish effect on the asset's price.
On the other hand, when the indicator's value declines, it suggests the holders are withdrawing their coins from the exchanges currently. Usually, investors transfer out of these platforms when they want to hold onto their coins for extended periods in self-custodial wallets. Thus, the supply on exchanges going down can have a bullish effect on the price in the long term.
Now, here is a chart that shows the trend in the Ethereum supply on exchanges over the past month: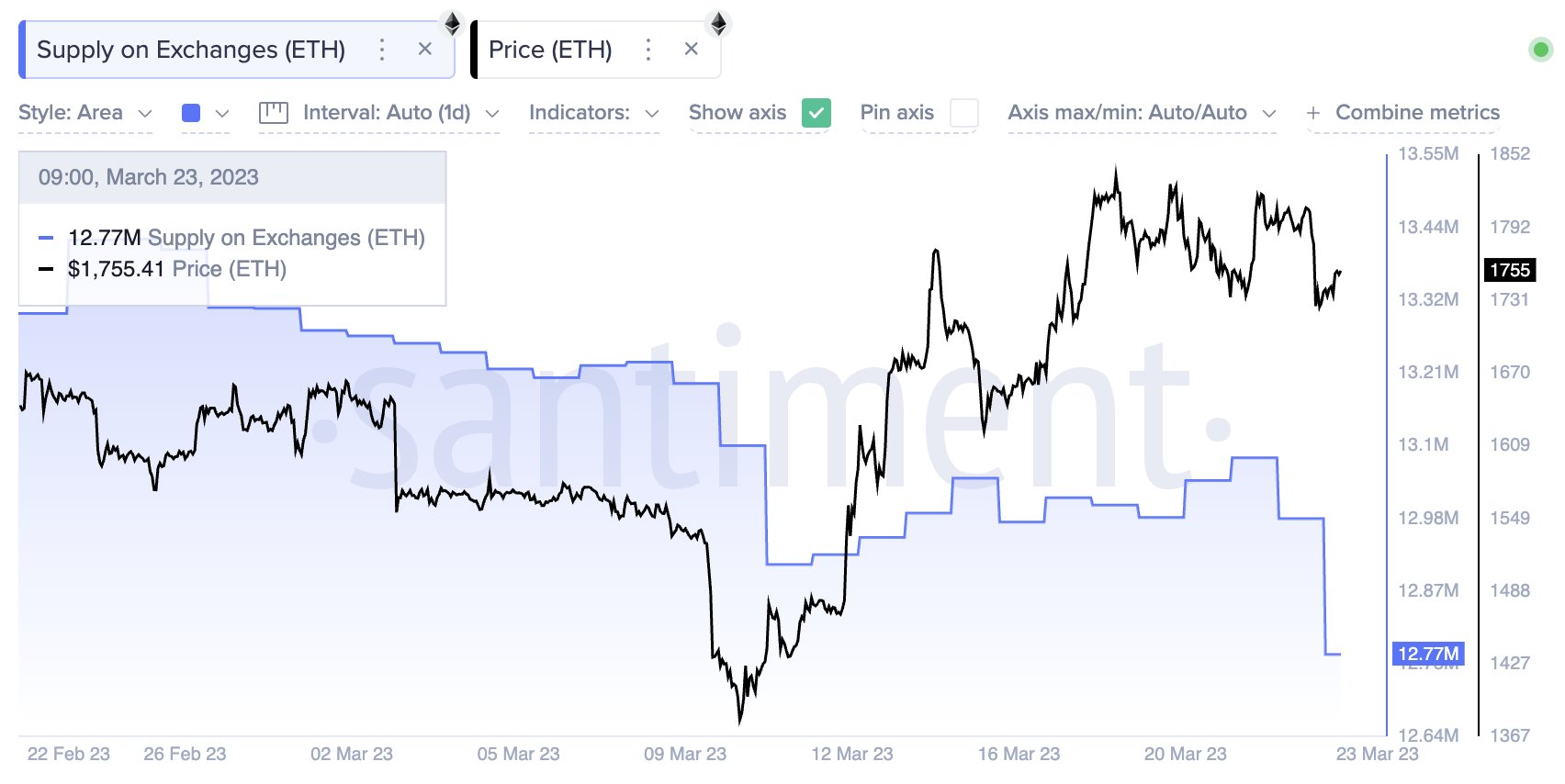 The value of the metric seems to have taken a sharp plunge in recent days | Source: Ali on Twitter
As displayed in the above graph, the Ethereum supply on exchanges had plummeted earlier in the month when the asset price had dipped below the $1,400 level.
Interestingly, with these outflows from the exchanges, the price stopped its decline and created a local bottom, and not too long after, it also caught on some rapid upwards momentum.
This may suggest that investors saw the low prices as an ideal buying opportunity and accumulated large amounts there, thus helping the price bottom out and resume its uptrend.
In the days following the restart of the rally, the Ethereum supply on exchanges observed a slight uplift, suggesting that some deposits were being made. This wasn't an unexpected trend, as sharp price surges usually see at least some amount of profit taken from the investors.
In the last few days, ETH has maintained relatively high levels of $1,700 and $1,800, but during the past 48 hours, the supply on exchanges has strangely plunged.
In this sharp drawdown of the metric, about 310,000 ETH ($560 million) was removed from the exchanges. Suppose these withdrawals are a sign that accumulation was occurring in the market. In that case, the price could feel a constructive effect in the long term as it shows investors still see Ethereum as a worthwhile investment and believe there is more to come in the rally.
ETH Price
At the time of writing, Ethereum is trading around $1,800, up 10% in the last week.
Looks like the ETH price has moved sideways in the last few days | Source: ETHUSD on TradingView
Featured image from Kanchanara on Unsplash.com, charts from TradingView.com, Santiment.net