Despite Bitcoin's significant upside trend in the past month, not everything is as green as it seems. According to data from crypto analytics firm, Glassnode, Bitcoin whales, which reached a significant peak in 2021, have plummeted to lows last seen in 2019.
Wallets holding a total amount of nothing less than 10,000 Bitcoin, currently worth $2.4 million, reached a low of 2,027 on February 19, a figure close to the one recorde in August 2019.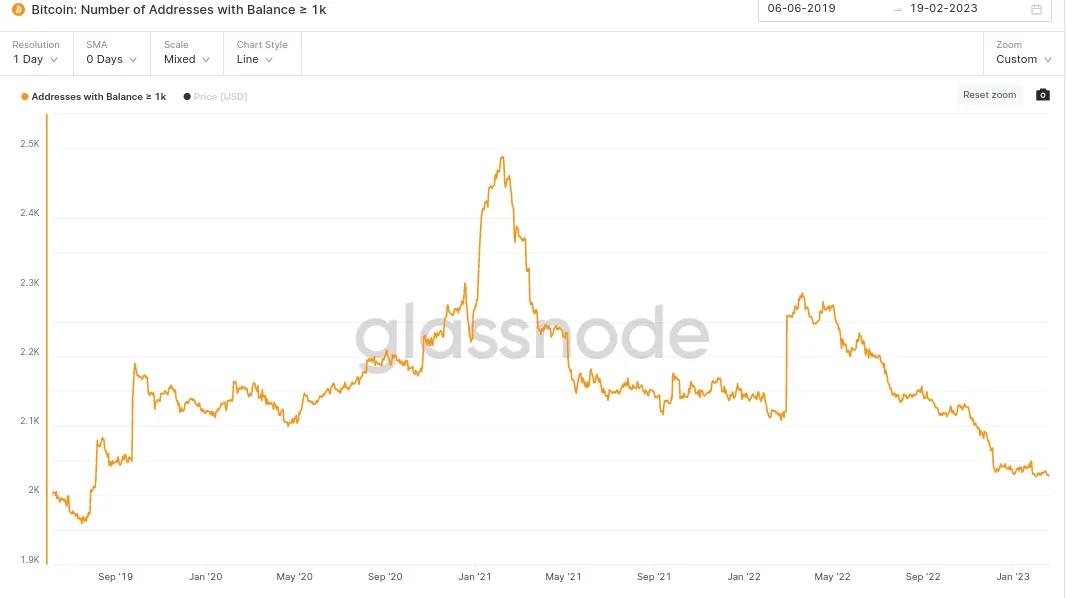 The number of Bitcoin whales reached an all-time high of nearly 2,500 in 2021 amid the bull season and has dropped gradually ever since. The reason behind the gradual decline is still unclear as some can be traced to whales turning mega whales or whales taking profit and moving on from the crypto market.
Mega Whales And Shrimps On The Rise?
While Bitcoin whales decreased, other investors, such as mega whales and shrimps, rose. Mega whales holding at least 10,000 BTC worth $247 million at the current price have surged. Bitcoin records 117 mega whales, a figure close to the historical highs of 123 seen in November 2022 and 126 recorded in October 2018.
In contrast, smaller holders called shrimps, holding less than 1 BTC, have gradually increased in numbers over the past years. Despite the drastic decline in Bitcoin's price, dropping from its all-time high of $69,000 in November 2021 to below $18,000 late last year.
The number of wallets holding at least one BTC is currently at 982,000, surging from the low of 814,000 recorded last year and a deeper low of 788,000 seen in February 2020.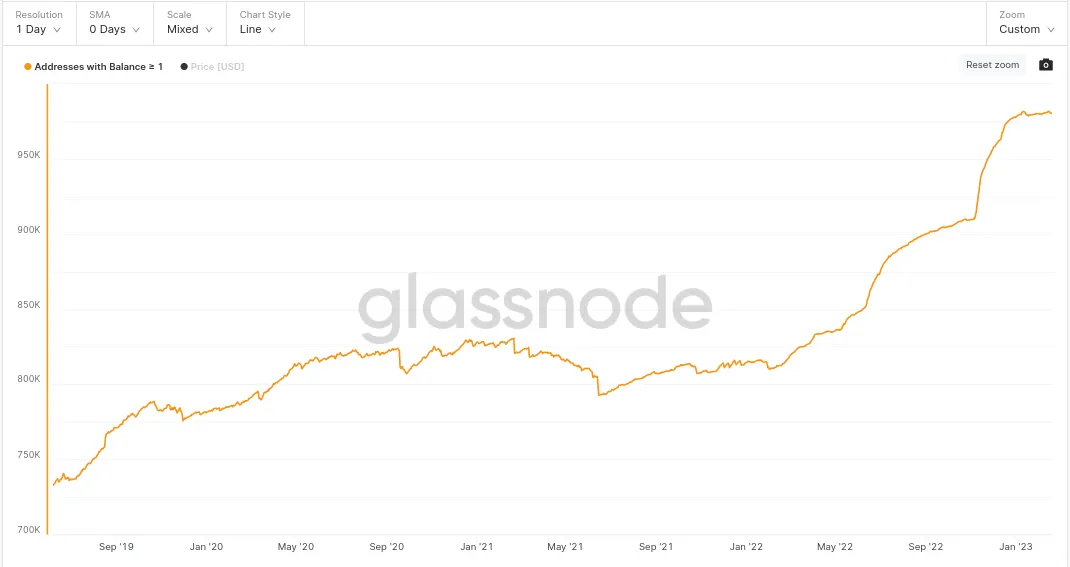 Overall, the increase in Bitcoin's whales and shrimps has mirrored the price of BTC itself since the beginning of the year. Over the past month, BTC has risen from ranging of $16,000 last December to above $25,000 in February, up by 40%
Bitcoin (BTC) Continous Rally
Over the past 24 hours, BTC has continued the upward rally by 3% after a slight retracement Sunday night. The asset has significantly contributed to the bullish trend of the global cryptocurrency market capitalization, with its market dominance of 40.5%.
Furthermore, the past few weeks have been bullish for BTC, especially since the beginning of the year. BTC has moved from the $16,000 price tag seen late last year to trading above $24,000 at the time of writing.
Notably, BTC trading volume has also surged significantly alongside its price, indicating investors increasing interest in the most significant crypto by market cap. The crypto asset's trading volume has risen from a low of $16.8 billion to a high of $46 billion as of February 20.
Though BTC has been climbing since the beginning of the year, it is still 63.99%, down from its all-time high of $69,000 in 2021. With the increasing adoption of the lightning network and the emergence of Bitcoin NFTs, there is a lot of potential for further bullish continuation.
Follow JERITEX:

Website: https://jritex.io
Telegram: t.me/jeritex
Telegram: t.me/jeritexasia
Telegram: t.me/jeritexgroup
Twitter: twitter.com/jeritex
Facebook: facebook.com/Jeritex/
YouTube: youtube.com/c/Jeritex
Medium: jeritexexchange.medium.com/
Reddit: reddit.com/r/JeritEX/
CoinMarketCap: coinmarketcap.com/community/profile/JRIT